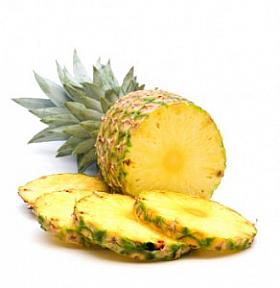 Pineapples have a very unique taste that goes well with many dishes and drinks. In fact, the pineapple is the second-favorite fruit of Americans, next to banana. The vibrant tropical taste is good for you, providing plenty of Vitamin B6, vitamin C, folate, manganese, potassium, thiamin, and dietary fiber. Though they are in season from March through June, pineapples are available year-round in grocery stores. For those of you concerned about calorie intake, it's important to know how many calories there are in a pineapple.
How Many Calories in a Pineapple?
Regular Pineapple

Calories

Carbohydrates

Sugar

100g

50

13 grams

10 grams

1 fruit

(905g)

452

119 grams

89 grams

1 Cup, Chuncks (165g)

82

22 grams

16 grams

1 Thin Slice

(56g)

28

7 grams

6 grams

Extra Sweet Pineapple

Calories

Carbohydrates

Sugar

100g

51

14 grams

10 grams

1 fruit

(905g)

465

122 grams

93 grams

1 Cup, Chuncks (165g)

85

22 grams

17 grams
Delicious Pineapple Recipes
Pineapple is also the basis for many delicious recipes, such as these:
1. Low Fat Raw Vegan Cherry Pineapple Mango Smoothie
This video gives you an excellent recipe that uses pineapple to create a tasty and good-for-you treat. Watch:
2. Hawaiian Chicken Kabobs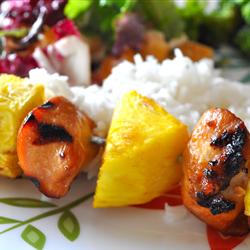 This tasty recipe gives a new spin to the pineapple craze.
Servings: 8
Nutritional Information:
This recipe has 203 calories per serving, 17.1 grams of carbohydrate and 23.6 grams of protein. There is also 61 mg of cholesterol, 413 mg of sodium and 4.2 grams of fat.
Ingredients:
You will need 8 boneless chicken breasts, cut into chunks; one can of drained pineapple chunks; ¼ tsp of garlic powder; 3 tbsp of soy sauce; 3 tbsp of brown sugar; 2 tbsp sherry; 1 tbsp sesame oil; and ¼ tsp ground ginger.
Directions:
Mix together the soy sauce, brown sugar, sherry, sesame oil, garlic powder and ginger.
Stir the chicken pieces and the pineapple together and mix it into the marinade.
Marinate it in the refrigerator for at least two hours.
Set the grill to medium-high heat, and layer the pineapple and chicken onto skewers.
Grill for 15 to 20 minutes, or until the juices of the chicken run clear.
3. Baked Pineapple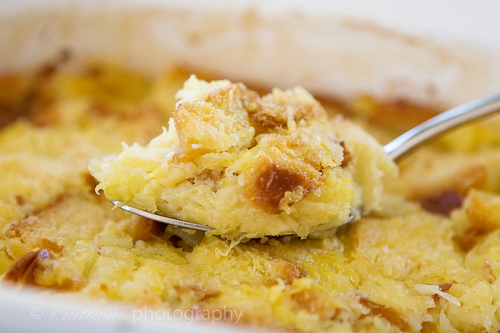 This simple recipe can delight your guests and make a great snack for yourself.
Servings: 6
Nutritional Information:
This recipe includes 364 calories, 66 mg of cholesterol, 328 mg of sodium and 7.8 grams of protein. It also contains 22.6 grams of fat and 34.6 grams of carbohydrates.
Ingredients:
This simple dish needs one 20-ounce can of unsweetened pineapple chunks, 3 tbsp all-purpose flour, 3 tbsp white sugar, 6 tbsp melted butter, 5 ounces shredded Cheddar cheese, and 25 buttery round crackers that have been crumbled fine.
Directions:
Drain the pineapple but reserve 3 tbsp of juice.
Combine all ingredients except the cracker crumbs into a 1 ½ quart baking dish that has been lightly greased with butter.
Top it with cracker crumbs.
Bake the mixture at 350 degrees Fahrenheit for 30 minutes.