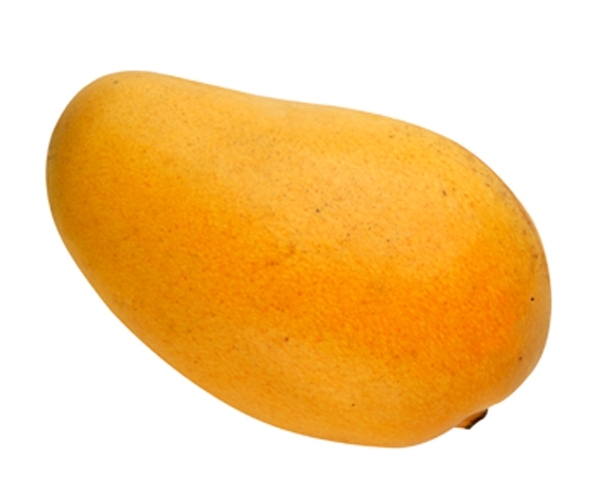 Mangoes are fleshy fruits that are high in fiber, pectin, vitamin C, minerals, antioxidants and enzymes that serve to aid digestion. Since they contain so many great nutrients, mangoes can be great for your cardiovascular, immune, and digestive systems. With all these great benefits, the next question is how many calories are in a mango, because people want to know if by eating too mangoes, they will have excessive calories.
How Many Calories in a Mango?
Calories in a Mango (207g = 1 piece of fruit)

Calories

About 135 calories

Fat

Contains 1 gram or 2% of daily value

Carbs

Contains 35 grams or 12% of daily value

Protein

Contains 1.1 gram or 1.5% of daily value

Sugar

Contains 31.0 grams

Fiber

Contains 4.0 grams or 16% of daily value

Calories in 100g of Mango (about half a mango)

Calories

About 60 calories

Fat

Contains 0.4 grams or 0% of daily value

Carbs

Contains 15 grams or 5% of daily value

Protein

Contains 0.8 grams or 1% of daily value

Sugar

Contains 14 grams

Fiber

1.6 grams or 6% of daily value
Delicious Mango Recipes
Although mangoes are great to eat as a simple fruit, they are also wonderful to add to other recipes.
1. Mango Cheesecake
Want a quick and easy no-bake mango cheesecake? Watch this YouTube video:
2. Mango Salsa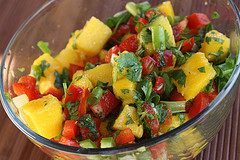 A mango and avocado salsa is a refreshing and addictive recipe that is also simple to make. This recipe makes 3 cups of salsa but can be adjusted to make more if desired.
Ingredients:
1 mango
1 avocado
1 red bell pepper
¾ cup red onion
1 tablespoon sugar
1 tablespoon olive oil
2 tablespoons white wine vinegar
1 teaspoon salt
Instructions:
Peel, seed and dice the mango, avocado, and pepper.
Dice the red onion.
Mix all ingredients in a bowl except the avocado and salt.
When the ingredients are mixed, gently add the avocado and salt.
3. Spicy Mango Sweet Potato Chicken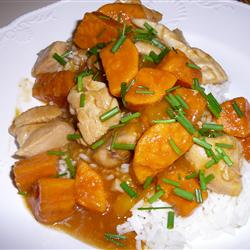 This sweet and spicy mango recipe is a low calorie main dish that can be served over rice. Leave out the chicken and it can also be a healthy vegetarian dish. This recipe makes about 5 cups.
Ingredients:
1 peeled and cubed mango
2 cups of peeled and cubed sweet potato
2 tablespoons vegetable oil
1 pound cubed boneless, skinless chicken breast
1 minced garlic clove
6 tablespoons of soy sauce
¾ cup of water
3 tablespoons honey
3 tablespoons of tabasco or other hot sauce
¼ teaspoon red pepper flakes
1 teaspoon corn starch (if desired for thickening)
1 tablespoon warm water
Instructions:
Prepare the potatoes, mango and chicken.
In a saucepan, cover the potatoes with water and simmer on the stove until the potatoes are tender. Drain the potatoes.
Heat the oil in a skillet and add the chicken. Cook the chicken until it is done. Remove the chicken from the skillet.
Add the clove to the skillet and cook for a few minutes.
Stir in the soy sauce, hot sauce, honey and water.
Bring this mixture to a simmer then stir in the chicken, potatoes, red pepper flakes and mango.
If you want the mixture to be thickened, add the cornstarch to 1 tablespoon of warm water then stir into the mixture.
Serve over rice or noodles!