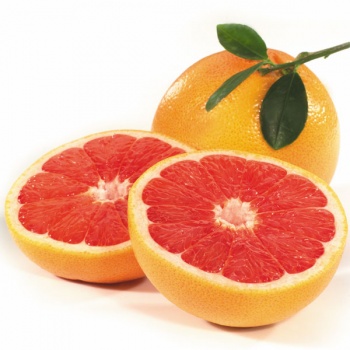 Grape fruit is classified as a citrus fruit, and it is also related to the orange. Grapefruits have relatively low calories content. Typically eaten fresh and juiced or raw, grapefruits are known for their health benefits and nutritional value. Although grape fruits do not have a specific availability season (they are available throughout the year). The best time to get grape fruits is during growing seasons, which are winter to early spring.
How Many Calories in a Grapefruit
Grape fruits come in different sizes that range from four to six inches round. Some grape fruits are seedless while others have seeds. Grapefruits are also available in a variety of colors such as red, pink and white; the color name of the grape fruit describes the fruit's flesh color.
The red and pink grape fruits are said to have higher calorie amounts than the white grapefruit. Naturally, larger fruits have more calories than the smaller ones. A cup of juice made from grapefruits will contain about 96 calories.
A Whole Grapefruit

Large (about 4½" diameter)

106 Calories

Medium (about 3¾ " diameter)

80 to 82 calories

Small (about 3½" diameter)

64 calories

Half A Grapefruit

A half of a large one

53 calories

A half of a medium one

50 calories

A half of a small one

30 calories

By Weight or Measurement

A cup of grapefruit slices with juice

74 to 76 calories

28g or 1oz of grapefruit

9 calories
More Nutritional Facts of Grapefruits
Large (about 4½" diameter)

Nutrients

Amount or % of Recommended Daily Intake (RDI)

Calories

106.2

Fat

0.33g

461.48mg

Carbohydrate

26.84g

Dietary Fiber

3.7g

Protein

2.09g

Saturated Fat

0.05g

Polyunsaturated Fat

0.08g

Vitamin A

62%

Vitamin C

190%

Zinc

2%

Magnesium

7%

Copper

8%
Medium (about 3¾" diameter)

Nutrients

Amount or % of Recommended Daily Intake (RDI)

Fat

0.26g

Protein

1.61g

Carbohydrate

20.68g

Dietary Fiber

2.8g

Polyunsaturated Fat

0.06g

Potassium

355.84mg

Saturated Fat

0.04g

Vitamin A

47%

Vitamin C

147%

Zinc

1%

Magnesium

5%

Copper

6%
Small(about 3½" diameter)

Nutrients

Amount or % of Recommended Daily Intake (RDI)

Calories

64

Fat

0.2g

Protein

1.26g

Saturated Fat

0.03g

Dietary Fiber

2.2g

Polyunsaturated Fat

0.05g

Carbohydrate

16.16g

Potassium

278mg

Vitamin A

37%

Vitamin C

115%

Zinc

1%

Magnesium

4%

Copper

5%
Health Benefits of Grapefruits
1. Boost immunity and fight inflammation
Since grapefruits are rich in Vitamin C, they support your immune system by reducing the cold symptoms or their severity. It also prevents damage by free radicals and also minimizes severity of inflammatory conditions such as stroke, rheumatoid arthritis, heart attack, asthma and osteoarthritis.
2. Fight tumors
Pink or red colored grapefruits have the carotenoid phytonutrient called lycopene, which contains anti-tumor properties that help fight oxygen free radicals. Such radicals are known to damage body cells.
3. Fight cancers
Grapefruit pulp contains glucarates which are compounds that help in fighting various cancers like lung, mouth, skin, colon, stomach and breast cancer. Grapefruits also contain limonoid, which are also phytonutrients that inhibit the formation of tumors by elevating glutathione S-transferase (detoxifying enzyme) formation. This enzyme triggers a reaction in your liver making the toxic compounds soluble in water for excretion.
4. Balance cholesterol
Grapefruits also help in the balancing of cholesterol in your body. They contain the soluble fiber known as pectin that is responsible for the reduction of triglycerides and "bad" cholesterol (LDL) without affecting any "good" cholesterol (HDL).
5. Reduce risk of kidneys stones
Reduce your risk of getting kidney stones by eating grapefruits. Taking about a half or a liter of juice made from grapefruits will increase the citric acid excretion and pH value of your urine that in turn reduces risk of getting calcium oxalate kidney stones.
6. Remove toxins
Eating grapefruits increases the activity and production of enzymes used for liver detoxification. These enzymes are responsible for the removal of toxins that cause cancer and toxic compounds from your body.
7. Repair damaged cells
Grapefruits also contain the flavonoid Naringenin that helps repair all damaged cells in the prostate cancer cells. It also eradicates all cell mutations that are potentially cancerous.
They are known to be rich in minerals and vitamins, and as time goes by, researchers discover more of its health benefits. What's more, grapefruits are great for weight loss. They are used in weight loss diets globally, and research has shown that they are very effective in helping people dealing with weight issues to lose some of the extra weight.
Here is what to do with the grapefruit peels
Lastly, once you are through eating your grape fruits, do not be so quick to do away with the peels. Did you know that you can actually make extracts as well as essential oils using grapefruit peels? It has aromatherapy benefits, which are known to have calming effects for both children and adults. You can grate the peels then use them on salads and other foods as flavor.