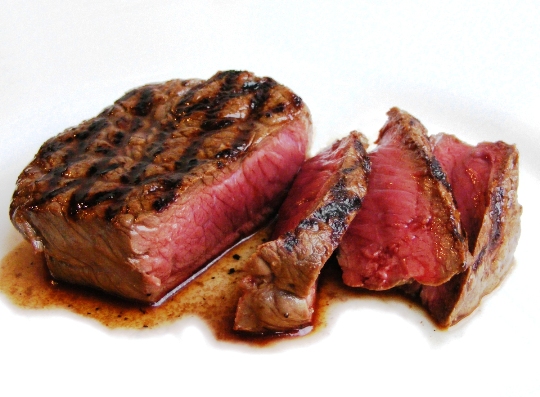 When you are craving beef, you need to understand that the calorie and fat content depend on which part of the meat is cut and how the steak is prepared. If you would like to give into your cravings without using up all your daily calories in one serving of meat, you need to look at the different cuts and sizes of steaks. You can also learn how to cook low calorie steak by yourself.
How Many Calories in a Steak?
However delicious steak can be, it is always recommended to not exceed 3-oz portion per day. Fill the rest of the plate with a green salad or other healthy side dishes.
Let's take a look at some popular cuts of steak and the approximate fat and calorie content for some different sizes:
Regular Steak

Size

Calories

Protein

Fat

1 Slice London Broil

53

5.73 grams

3.15 grams

1 Small Beef Steak

386

41.75 grams

22.97 grams

1 Medium Beef Steak

514

55.67 grams

30.62 grams

1 Large Beef Steak

685

74.23 grams

40.83 grams

3 Ounce Boneless Steak

214

23.21 grams

12.77 grams

Lean Steak

1 Slice London Broil

39

6.26 grams

1.39 grams

1 Small Steak

219

34.88 grams

7.76 grams

1 Medium Steak

292

46.5 grams

10.34 grams

1 Large Steak

391

62.3 grams

13.86 grams

3 Ounce Boneless Steak

159

25.35 grams

5.64 grams

Porterhouse Steak

3 Ounce Lean Steak

180

22.16 grams

9.50 grams

3 Ounce Steak with Fat

235

20.37 grams

16.38 grams

T-Bone Steak

3 Ounce Lean Steak

161

22.09 grams

7.39 grams

3 Ounce Steak with Fat

210

20.55 grams

13.54 grams

Sirloin Steak

3 Ounce Lean Steak

212

26.08 grams

11.19 grams

3 Ounce Steak with Fat

225

25.47 grams

12.90 grams

Round Steak

3 Ounce Serving

154

23 grams

6 grams

1 Large Steak

429

65 grams

17 grams

Tenderloin Steak ( 3 Ounce Serving)

Tenderloin Roast

276

20 grams

21 grams

Tenderloin Steak, Broiled

227

22 grams

15 grams

Tenderloin Steak, Raw

210

20 grams

18 grams
Which Cuts of Steak Have the Least Calories?
The USDA is responsible for labeling the 29 cuts of lean beef and recognizes 5 of these as "extra-lean." These cuts include; top round, bottom round, eye of round, top sirloin, and sirloin tip side steak. In order to qualify for "extra-lean" the cuts need to be less than 5 grams of fat in a 3 ounce serving. They cannot have more than 2 grams of saturated fat and need to have 95mg or less cholesterol in a 3 ounce serving. For the fewest calories, bottom round steak is the best choice. Bottom round contains less than 140 calories per 3 ounces. Eye of round and sirloin tip side steaks weigh in at around 144 calories each. Top round steaks and Top sirloin contain 155 calories or more. These last two may be higher in calories, but you still benefit from their lower fat levels.
Low Calorie Steak Recipes
When preparing steak, you will want to try to keep it low-fat. The addition of heavy sauces and marinades could raise the calorie and fat content of your meal. Here are a few low-fat steak recipes for you to try:
1. London Broil with Cherry Balsamic Sauce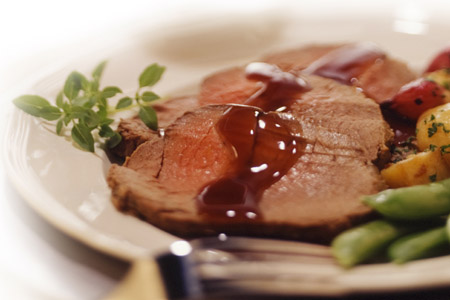 Servings: 6
Ingredients:
1 ½ Pounds Trimmed London Broil
1/3 C. Dry Red Wine
¼ C. Balsamic Vinegar
2 Tbsp. Cherry Preserves
2 Cloves Garlic (Minced)
½ Tsp. Salt
Pepper to taste
3 Tbsp. Shallot (Finely Chopped)
1 Tsp. Extra Virgin Olive Oil
2 Tsp. Butter
Instructions:
Whisk vinegar, wine, salt, pepper, garlic and cherry preserves in a bowl then pour over steak. Make sure meat is coated on all sides and place in covered dish in refrigerator for half an hour.
Transfer the marinade to a saucepan and add shallots.
In another pan, sear the steak in olive oil and cook for 10 to 12 minutes.
Bring marinade to a boil until it is reduced to 1/2 cup.
After meat is done transfer to cutting board and allow it to rest for 5 minutes.
Add butter to sauce and allow to cool slightly.
Slice meat against the grain and top with sauce.
2. Broiled Sirloin Steaks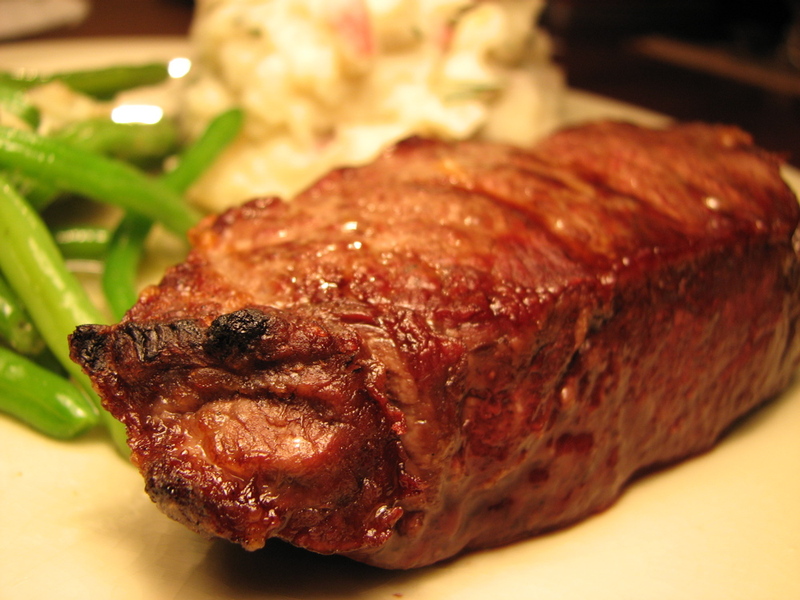 Servings: 3
Ingredients:
4 Top Sirloin Steaks (3 ounces each)
2 Tbsp. Lime Juice
1 Tsp. Onion Powder
1 Tsp. Garlic Powder
¼ Tsp. Ground Mustard
¼ Tsp. Dried Oregano
¼ Tsp. Dried Thyme
1 C. Sliced Fresh Mushrooms
Instructions:
Whisk together lime juice, onion powder, garlic powder, ground mustard, oregano and thyme. Soak meat well with marinade and rub into meat.
Broil steaks for 7 minutes then turn.
Place mushrooms on top and broil for an additional 7 minutes.