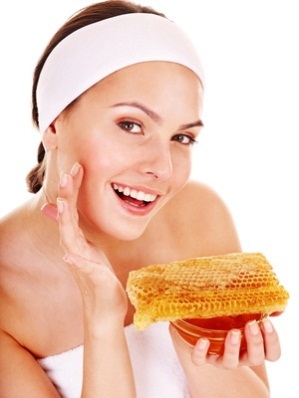 Honey is nature's antiseptic and also functions as a humectant. The end result is a soothing and healing substance that is readily available. Your skin will thank you for the extra moisture and improved appearance. Honey is even noted to help fight acne due to its' antibacterial properties that help wound healing. You can use honey in many ways for your face such as facial scrub and facial masks.
How to Use Honey for Face
Honey is perfect for the face and is an all-natural organic remedy to improve your appearance without using any harsh chemicals.
1. Honey-Lemon Mask
By using just honey and lemon, you can greatly improve the appearance of your skin. Watch the video for more details:
2. Honey Facial Scrub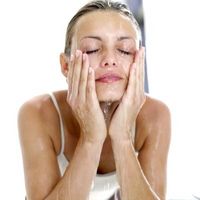 This is the perfect way to exfoliate and moisturize your face at the same time. Simply take a tablespoon of honey and mix in some ground nuts. Next add a bit of fresh squeezed lemon juice and gently massage your skin. The nuts serves to exfoliate and the lemon juice will brighten and remove unsightly blemishes. Your skin will feel toned, smooth and look refreshed after this treatment.
3. Honey and Egg White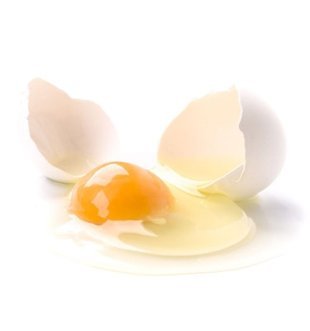 This is the perfect way to firm and tone your face. Whisk a large organic egg white with a tablespoon of organic honey. The darker the honey the better as it contains higher levels of antioxidants. Gently rub this mixture on your face and leave it on for at least 10 minutes. Rinse with warm water and enjoy a toned and smooth face. You will notice smaller pores and an overall more youthful appearance.
4. Honey and Essential Oil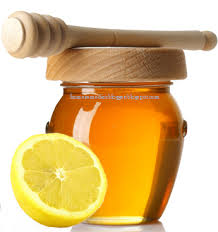 Stir a spoonful of honey with a teaspoon of organic olive oil. Then add a squeeze of lemon juice and a drop of your favorite essential oil. Organic extra virgin olive oil is always the best choice. This remedy will moisturize your skin and leave it feeling softer than ever.
5. Honey and Cinnamon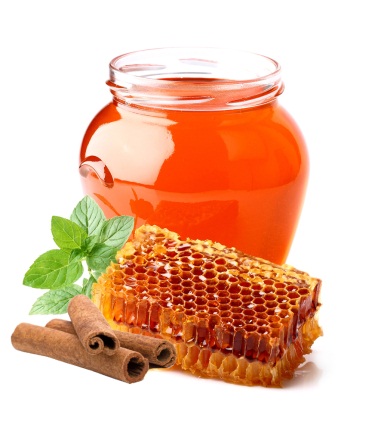 Cinnamon has many health benefits and works well as a natural skin exfoliant. The antimicrobial and antiviral properties of these two substances work synergistically to improve the appearance of your skin.
Mix 3 tablespoons of cinnamon powder with 2 tablespoons of honey. Continue stirring until the cinnamon is evenly spread throughout the honey and no clumps are visible. Apply as a mask to your freshly washed face. Leave it on for 30 minutes and rinse off with warm water. For added benefit, try leaving the mask on longer and even through the night if you can.
6. Turmeric, Garlic and Honey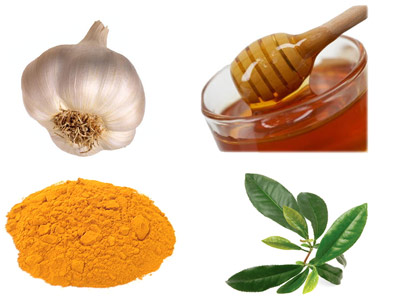 Turmeric and garlic have been used for thousands of years for their health boosting features. Both turmeric and garlic possess natural antibacterial, antiviral and antiseptic characteristics. Combining them with honey creates a powerful anti-inflammatory mask.
Select 6 organic garlic cloves and then peel and smash them. Mix the garlic with 3 tablespoons of organic honey in a bowl. Then add 1/2 teaspoon of turmeric and stir until evenly distributed. Apply to the clean face for 10 minutes. Don't be alarmed if a slight burning is felt, as this is normal. Leave it on for 10 minutes and then rinse and pat dry.
7. Apple and Honey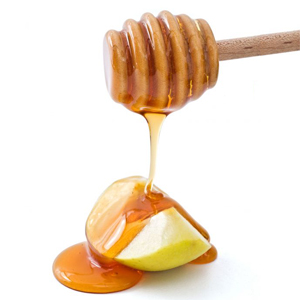 This treatment is an effective way to deal with acne by speeding the healing process, decreasing inflammation and preventing new acne lesions from developing. It also removes excess oil from the skin creating a soft and smooth face. The pore opening and cleansing action of the fresh apple will greatly improve you skin.
To make this remedy, simply take one organic apple and remove the seeds before placing it in a blender. Add 4 tablespoons of organic honey. Blend until the mixture appears consistent throughout. Apply this mask evenly to the face and allow to dry. Wash it off after 15 minutes and gently pat dry.
What Is the Best Type of Honey for Acne Treatment?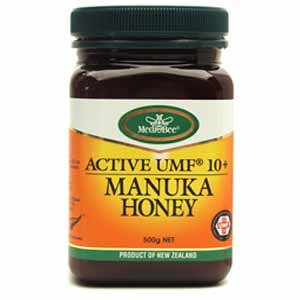 The best honey overall for acne treatment is derived from the flower of the Manuka bush. This New Zeeland product has a high concentration of antibacterial activity and a unique non-peroxidase activity. Look for Active Manuka Honey with the label UMF 10, UMF 15 and UMF 16+. This correlates to a high degree of antibacterial activity. Manuka honey is stable to heat and light and consistently penetrates deep into the skin for maximum effectiveness.