Have you ever had that awful oily shine on your face and you can't seem to get rid of it? Oily skin is definitely a challenge found most often on people with thick, large-pored skin. It can be due to stress, hormonal changes, genetics, side effects of medication, or misuse of skin care products. Fortunately, you can use these home remedies for oily skin to lessen the oiliness, brighten your complexion and refine the pores for a more pleasing look.
Wash Face Properly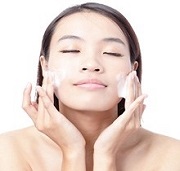 1. Use gentle skin cleansers that are slightly acidic (gentle pH balanced) morning and night. Don't overdo it, though - the skin has a protective "mantle" that you don't want to scrub off. This protective acid keeps bacteria from entering the body through the skin. Since most soaps are too alkaline (non-acidic), they tend to strip the mantle, leaving the skin vulnerable to bacteria.
2. Although it may seem counter-intuitive, don't use facial scrubs. It actually stimulates oil production! Instead, brighten the skin by using AHA, or alpha-hydroxy acids (citric acid, lactic acid and glycolic acid). Alternatively, use BHA, or beta-hydroxy acids such as salicylic acids. Home remedies include milk enzymes as well as enzymes from pineapple or pumpkin.
3. Cleopatra bathed in milk - for a reason! Milk is an oil-free cleanser which leaves the skin soft and supple. Use a milk wash several times a day to minimize oil and sebum (the dead outer layer of skin). At night, clean your face thoroughly (see above) and remove all traces of makeup. Then, mix 2T of milk with 2-3 drops of lavender oil or sandalwood oil. Use a cotton ball to gently massage the skin and remove any final traces of makeup or grime.
Exfoliate the Skin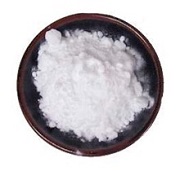 1. Be careful with abrasives - use them, but gently! To add a bit of abrasion to liquid soap, simply add 1/2t of baking soda and rub the mixture gently into oily areas. Rinse with cool water. This scrub also helps get rid of blackheads on oily areas such as the chin, forehead and nose.
2. You can use apple cider vinegar or white vinegar to exfoliate the skin. At bedtime, apply the vinegar to clean skin, using a cotton ball. Leave it on for 5-10 minutes. Rinse with cool water. This remedy works, but be patient. You may need to use it for several weeks before you see improvements. If you experience any irritation, dilute the vinegar with 4 parts water.
3. To exfoliate the skin, use an almond honey scrub: Mix a small amount of honey with ground almonds (almond meal). Gently massage the mixture into clean skin with a hot washcloth. Careful not to scrub too hard, as the almonds are quite abrasive. Rinse with cool water.
Absorb Skin Oil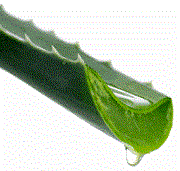 1. Aloe vera gel, which is available at health-food stores, supermarkets and drugstores, will clear your pores and absorb excess oil. Dab a small amount of the gel to your face several times a day and always after washing your face. Let dry. Store the gel in the refrigerator for an invigorating feeling.
2. Use cornstarch to dry up oily skin. Mix 1-3T cornstarch with a bit of warm water (enough to make a paste). Rub gently on the face and allow to dry. Then, rinse off with lukewarm water. Use this treatment daily for best results.
3. Salt is a wonderful desiccant (drying agent). Add a teaspoon of salt to tepid water in a small spray bottle. Close your eyes and mist your face once a day, and blot dry. Do not rinse.
4. After you cleanse your skin, use an alcohol-free/acetone-free toner because these drying agents cause the body to produce excess oil in order to protect the skin. A few drops on a cotton ball or pad, wiped gently over the face, will do the trick in balancing and toning the skin.
DIY Natural Masks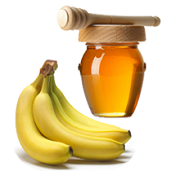 1. A banana/honey mask will soothe the skin. Put a banana and a tablespoon of honey in the blender. Add a few drops of lemon or orange juice. Apply to face and let sit for 15 minutes. Rinse using a cool washcloth, or you can use a steaming hot washcloth. Gently pat dry. Follow with a small amount of moisturizer.
2. Egg yolk masks are a wonderful, fast fix for excess oiliness. The egg yolk dries out the skin. Use a cotton ball to apply the yolk to oily spots. Leave on for 15 minutes. Finally, rinse off with cool water.
3. You can use citrus fruits and cucumber to reduce oiliness and refresh the skin. Citrus: mix lemon juice and water in equal parts. Pat onto the face and let dry. Rinse with warm water, and then rinse with cool water to invigorate the skin. Cucumber: mix ½ teaspoon cucumber juice and 1/2 teaspoon lime juice. Apply to skin, let dry, and then shower off.
4. Make a homemade facial mask of ½ cup oatmeal, ½ cup mashed apple, 1 tablespoon of lemon juice and 1 slightly beaten egg white. Mix together in a paste. Apply to your face, and leave it on for 15 minutes. Rinse with cool water.