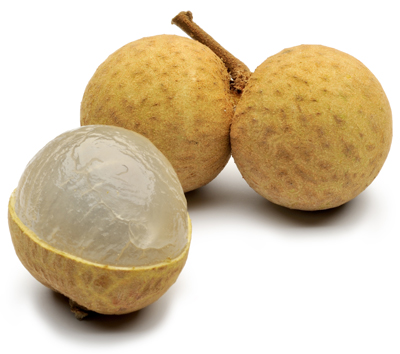 This small round brown fruit is very similar to the popular lychee and is found in China. Packed with essential nutrients, this fruit is an excellent addition to your daily diet.
The botanical name, Euphoria langana, is a perfect fit for the longan fruit. Also known as the euphoria fruit, the sweet succulent fruit is very tasty and enjoyable to eat, as well provides many benefits. Fresh longan fruit will appear leathery and light brown in color. It can darken with age and contains only one seed or pit and therefore is also known as dragon eye. Southeast Asia is a prime producer and anytime between mid and late summer
Nutritional Facts of Longan Fruit
Fresh longan fruit

Nutrients

Value (per 100g)

Water

83 g

Protein

1.3 g

Carbohydrate

15 g

Dietary fiber

1.3 g

B1 (Thiamine)

0.031 mg

B2 (Riboflavin)

0.14 mg

B3 (Niacin)

0.3 mg

Vitamin C

84 mg

Calcium

1 mg

Iron

0.13 mg

Potassium

266 mg

Magnesium

10 mg

Zinc

0.05 mg
Dried longan fruit

Calorie

285

Carbohydrate

74 g

Water

17.6 g

Protein

5 g

B1 (Thiamine)

0.04 mg

B2 (Riboflavin)

0.5 mg

B3 (Niacin)

1 mg

Vitamin C

28 mg

Calcium

45 mg

Zinc

0.22 mg

Magnesium

46 mg

Potassium

658 mg

Iron

5.4 mg
Benefits of Longan Fruit
Logan fruit can be eaten raw, dried or even frozen to enjoy later. No mater how it is used, the health benefits are plentiful.
1. Great source of vitamin C
Just one half cup provides 80% of your daily vitamin C requirements. Iron absorption depends on vitamin C and combining longan fruit with meat increases your iron levels. Vitamin C also plays a vital role in immunity.
2. Antioxidants
Antioxidants are our first line of defense against free radicals. These substances cause damage and generate inflammation throughout the body. Longan fruit is rich in antioxidants and can protect against heart disease, chronic inflammation and may even help prevent some cancers.
3. Better skin
Traditional Chinese medicine has known the beauty benefits of the longan fruit for thousands of years. This magic fruit adds luster, shine and suppleness to the skin.
4. Heart health
Chinese herbalists tout the direct nourishing effect of longan on the heart. Add this fruit to improve your cardiovascular system.
5. Other benefits
Longan helps with blood production, most likely through the iron content needed to produce new red blood cells. It has been used for over 2000 years as a sexual health tonic. Longan fruit is also known to improve energy and impart a sense of calmness to the spirit.
Precautions
Allergies to longan fruits are rare, but if symptoms develop seek medical advice from your doctor. Often the allergic symptoms are due to sulfur dioxide sprayed on the fruit as a preservative and not from the fruit itself.
Healthy Longan Fruit Recipes
Try these two delicious recipes with longan fruit.
1. Longan and red date soup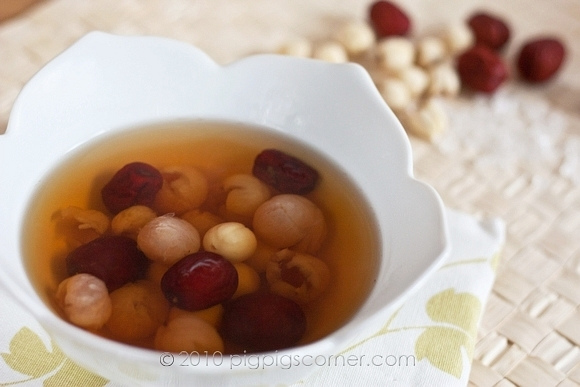 Ingredients
1 cup dried Chinese red dates
1 cup dried longan flesh
8 cups room temperature water
½ cup rock sugar (Chinese preferred)
Directions
Mix the red dates, water and longan fruit and cook to a boil.
Add the rock sugar and then cook until soup-like consistency.
This generally takes about 30 minutes. Serve hot or refrigerate and serve as a cold soup later.
2. Stir-fried chicken with longan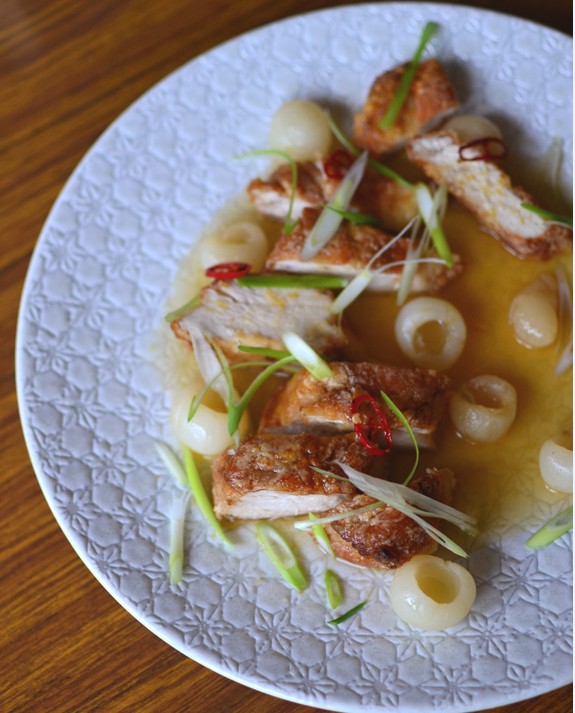 This simple yet elegant 3-part recipe is easy to make and wonderful to share.
Ingredients
Ingredients for marinade
2 teaspoons of soy sauce
¼ teaspoon of salt
1tablespoon of cornstarch
Ingredients for sauce
4 tablespoons of water
1 tablespoon of white vinegar
½ teaspoon of cornstarch
2 teaspoons of sweet soy sauce
2 tablespoons of sugar
Ingredients for main portion
10-ounce boneless chicken breast
1 can longans, drained, rinsed and diced
¼ cup extra virgin olive oil or light virgin olive oil
1 red bell pepper, diced
Directions
Mix the cornstarch, salt and soy sauce in a bowl. Set it aside for later use.
Combine all sauce ingredients in separate bowl and mix well.
Cut the chicken into bite-sized pieces and soak in the marinade for at least 30 minutes. Soak the longan fruit in salted water for 15 minutes, then drain and slice in half.
Use a skillet and cook the chicken using the olive oil. As the chicken becomes tender, add the diced pepper, sauce and longan fruit.
Cook for another 2 minutes and the sauce will thicken as the chicken finishes cooking. Serve over jasmine or brown rice.