Arugula is a bitter leafy vegetable, which contains many nutritional sources that can help to promote good health in your body as well as the bodies of your family members and friends. It is low in calories and can offer so many vitamins and nutrients, so making some tasty dishes including arugula can not only pleased the taste buds, but also help boost the body's health and overall well-being.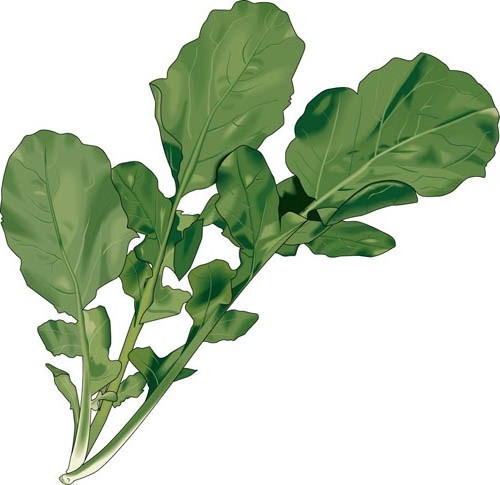 Benefits of Arugula
1. Bone health
In order to maintain bone health, there are certain vitamins and nutrients, available in arugula, that are necessary, such as vitamin K, vitamin C, calcium and magnesium. Consuming just three cups worth of arugula daily can provide you with 100% of your bodies needs each and every day of vitamin K. Vitamin K is also proven to reduce the risk of fractures in the bones of your body. Vitamin C promotes the formation of collagen. That formation of collagen is necessary in body to maintain strong and healthy bones. Bone mineral density is boosted through calcium and magnesium, which is present in arugula, as well.
2. Eye health
Promoting eye health can be accomplished by ingesting arugula. Beta-carotene, lutein and zeaxanthin are included in the photochemicals of which arugula is a rich source of. Lutein and zeaxanthin are associated with eye health and beta-carotenes can be responsible for healthy eyes as well as the immune function of the skin. Glucosinolates, which is also one of these photochemicals, which arugula is also a rich source of, helps in strengthening the body's defenses, including the eyes.
3. Weight loss
The choice to add arugula into your diet can benefit you in many ways. A 2-cup serving contains only 80 calories, so arugula is also very low in calories, which is a good choice for those on a diet.
Healthy Arugula Recipes
Easy Italian Appetizer Arugula Salad
Arugula Rocket Green Juice Recipe:
1. Arugula detoxification juice
This detoxification juice is also known as "the great wonder cleanse".
Ingredients:
1/2 cup of spinach
1/2 cup of packed romaine leaves
1/2 cup of packed arugula leaves
1/4cup of chopped watercress
3 large carrots
Instructions:
Get down the juicer and get started. Extract the juice from the watercress and set aside. Next extract the juices from the spinach, romaine and arugula and set aside as well. Time to juice up the carrots. Now add all the juices into a pitcher together and mix up real well. Pour up a glassful, drink up and let the detoxification/ cleanse begin.
2. Sautéed arugula
This is an amazing side dish that can complement fish, chicken, steak etc. Try this simple quick recipe and I'm sure you will agree. This recipe can be doubled, tripled, etc., depending on the amount of serving you require, but I would suggest always cooking it fresh and eating it immediately when done cooking.
Ingredients:
1 tablespoon of olive oil
2 cloves of minced garlic
2 cups of chopped or sliced arugula
Instructions:
Grab a sauté pan and add the oil and set the temperature to high. Heat the oil up and then add in the garlic, stirring often (approximately 30 to 45 seconds), or until the fragrance is released, DO NOT BURN. The next step in to add the arugula and toss with the oil in the pan. Heat for about 1 minute, until you notice the arugula leaves begin to wilt. Serve up on whatever plates you have chosen, sit down and enjoy this fantastic side dish.
3. Stir-fried arugula with chicken
Looking for an incredibly scrumptious chicken dish? The wait is over, here it is. All of the following ingredients are based on cooking with one pound of chicken. Depending on how many servings or guests you are preparing for, the recipe can be adjusted accordingly.
Ingredients:
1 pound of chicken
1/2 tablespoons of sesame oil
2 tablespoon of olive oil
2 tablespoons of minced ginger
2 tablespoons of minced garlic
1 tablespoon of honey
1 tablespoon of your choice of soy sauce, saki or cooking sherry
1/2 cup of sliced mixed peppers
8 cups of whole arugula leaves
Instructions:
In a large mixing bowl add sesame oil, honey and your choice of soy sauce, saki or cooking sherry. Whisk all the contents of the bowl completely. Add chicken to the bowl and coat completely with the marinade, cover and refrigerate for a minimum of thirty seconds. In a wok, heat 1 tablespoon of the olive oil over medium to high heat. Once the oil is heated add the chicken from the marinade into the wok and stir-fry for about two and a half minutes per side, so that they get brown on the outside and are no longer pink inside. Remove the chicken and its juices into a side dish. Add the other tablespoon of oil to the pan and heat it, as well. Once it is thoroughly heated add the peppers and cook them until you begin to notice them blistering, not burning, this should take only about one minute. Promptly add the ginger and garlic and allow to cook for about thirty seconds, which is when you should begin to smell them cooking without turning brown. It is now time to add the yummy arugula, warm for a minute or so and then add the chicken toss to combine all the ingredients, serve on plate(s) eat and enjoy the deliciousness in front of you.
4. . More delicious recipes
Want a great way to add some extra flavor to grilled fish or chicken? A pesto sauce is a great choice. In order to prepare the pesto, you will need 2 cloves of garlic, 2 cups of packed arugula, ½ cup olive oil, ¼ cup toasted walnuts, 1 tablespoon of lemon juice and salt and pepper to taste (optional). You can prepare the pesto prior to grilling the fish or chicken, or while it is grilling. Place all the ingredients into the food processor and puree them together, and you are done. Spoon it on top of the fish or chicken, once it is grilled, and sit back and enjoy this tasty delight.
Preheat the oven to 400. While it is heating up get two slices of whole wheat bread and layer on some slices of ripe peach and Gruyere cheese. Top off with a healthy handful of arugula and bake until cheese melts. Lastly take the sandwich out of the oven and get ready to delight your taste buds.
Cook up about ¾ lb of whole-wheat pasta, set it aside and allow it to cool. While it cools cut a cup of grape tomatoes into halves, chop ¼ cup of parsley, measure out 1 tbsp olive oil, three tbsp of pine nuts and two packed cups of arugula. Add all the ingredients, plus salt and pepper to taste, to the pasta, which should still be somewhat warm. Warm all the ingredients together, eat and enjoy.
Preheat the oven to 425, while it preheats take a whole wheat pizza crust and add basil pesto, sautéed broccoli, a cup of arugula and top it off with shredded mozzarella cheese. Once the oven is thoroughly heated, place the pizza in and bake it until you start to see the cheese melt. Take it out, allow to cool for a few minutes, and then enjoy a delicious homemade pizza.