Most people assume that Brussel sprouts originated in Belgium; however, no one truly knows their origin. Brussel sprouts are naturally low in fat and calories as so many vegetables are. They are also extremely high in protein, unlike many others, which accounts for a quarter or more of their calories.
Brussel sprouts are a great source of protein, but they do not contain all the essential amino acids necessary for a balanced diet. By adding whole grains to a meal with Brussel sprouts you can have a well-balanced meal as the amino acid spectrum is fulfilled.
Brussel Sprouts Calories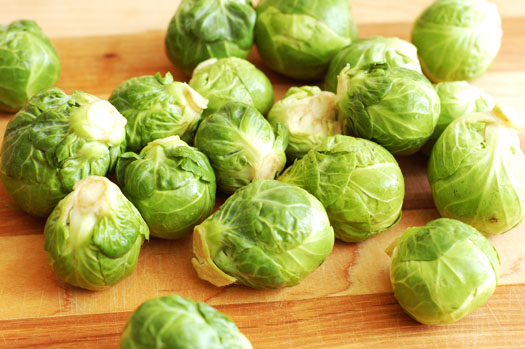 Brussel sprouts are known as "nutrition cannonballs" by registered dietitian Alexandra Oppenheimer. This is for a very good reason. Brussel sprouts can keep you full with only 10 calories per sprout, while providing ½ gram of fiber and protein per sprout as well.
Style of Brussel Sprouts

Serving size

Protein

Carbohydrates

Fat

Calories

Raw

1 cup/88g

3

7.9

0.3

37.8

1 sprout/19g

0.6

1.7

0.1

8.2

Boiled & drained (no salt)

½ cup/78g

2

5.5

0.4

28.1

1 sprout/21g

0.5

1.5

0.1

7.6

Boiled & drained (with salt)

½ cup/78g

2

6.8

0.4

32

1 sprout/21g

0.5

1.8

0.1

8.6

Frozen – unprepared

10 oz/284g package

10.7

22.3

1.2

116.4

2 lb/907g package

34.3

71.3

3.7

371.9

Frozen – boiled & drained (no salt)

1 cup/155g

5.6

12.9

0.6

65.1

Frozen – boiled & drained (with salt)

1 cup/155g

5.6

12.9

0.6

65.1
Health Benefits of Brussel Sprouts
Besides the fact that Brussel sprouts calories content is low, they also provide many other health benefits, making them a good choice for your diet.
1. Improve Eye Health
There are 20 essential vitamins in ½ cup of Brussel sprouts. The vitamins include a large amount of the vital antioxidant, known as vitamin C as well as several B vitamins. That one serving also includes 604 units of vitamin A, along with carotenoids, zeaxanthin, and lutein, which are all vital for maintaining your eye health. Children and adults who have deteriorating eyesight will gain great benefits from eating Brussel sprouts.
2. Promote Wound Healing
One serving of Brussel sprouts also provides aid in blood clotting to help heal wounds and reduce swelling because of their high amounts of fat soluble vitamin K. There are many blood related health problems that are caused by a deficiency of vitamin K. The Brussel sprouts calories are very low, so eat up to help keep yourself healthy.
3. Lower Cholesterol
You can lower your cholesterol by eating higher amounts of fiber. A single serving of Brussel sprouts contains more than 15% of your recommended daily amount of fiber. The extra fiber helps your digestive tract function properly to lower your cholesterol levels.
4. Reduce Inflammation
The glucobrassicin found in Brussel sprouts is a natural anti-inflammatory. Plus, one serving of Brussel sprouts contains 430 mg of omega-3 fatty acids which are also great at fighting inflammation.
5. Provide Cardiovascular Support
The compound isothiocyanate sulforaphane in the sprouts is extremely powerful at triggering the anti-inflammatory response in the cardiovascular system. This compound also helps reverse damage done to blood cells. Brussel sprouts are a powerhouse of support against heart attacks, heart disease, and arteriosclerosis and arterial blockage.
6. Enhance Digestion and Diet
Though Brussel sprouts calories are low, its fiber content is of great help. A single serving of Brussel sprouts contains 4g of dietary fiber. They are a great remedy against indigestion, constipation, and maintaining blood pressure levels. They are also a great way to control your eating by helping you feel full.
7. Prevent Cancer
The high numbers of glucosinolates and antioxidants found in Brussel sprouts are great for preventing cancer. Breast, colon, and prostate cancer are just a few that can be prevented by eating Brussel sprouts on a regular basis.
Cabbage vs. Brussel Sprouts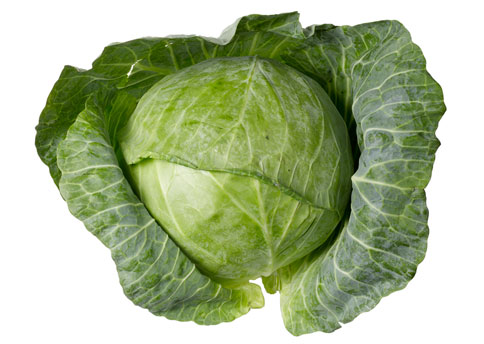 Cabbage is actually one of the oldest recorded vegetables, and has been a staple in the human diet for thousands of years. You cannot get bored with cabbage as there are approximately 100 different varieties around the world. The savory green and red cabbages are the most common.
Each head of cabbage is different depending on the variety; some may be round, flat, or pointy. Cabbage, like Brussel sprouts, does tend to grow better in a cooler climate. You can grow your own in about 50-60 days (Brussel sprouts take 85-110 days).
In general, serving sizes are about ½ that of Brussel sprouts. A serving of cooked cabbage is ½ cup. Each serving contains:
17 calories
6mg sodium
4g carbohydrates
2g sugar
1g dietary fiber
1g protein
28mg vitamin C
3 IU vitamin A
60 IU vitamin K
22 micrograms folic acid
36mg calcium