Bactroban cream, also known as mupirocin calcium cream, is an antibiotic that prevents harmful bacteria from growing on your skin. The active ingredient in Bactroban cream is mupirocin, which is used to treat skin infections caused by bacteria, particularly methicillin-resistant Staphylococcus aureus (MRSA). Mupirocin affects the bacteria's production of certain proteins that are essential to their survival, causing the bacteria to produce faulty proteins, and ultimately killing the bacteria and clearing up the infection. Bactroban cream is used to treat traumatic lesions such as small lacerations that have become infected with bacteria.
What Should Be Known Before Using Bactroban Cream?
There are some things to consider before you use mupirocin calcium cream, other medication you may be taking can interact with mupirocin cream, although no adverse reactions have been discovered to date, it is advisable to consult your doctor or pharmacist if you are on any other medication before using this treatment. If you are pregnant and are planning to use mupirocin cream, it is recommended that you first consult with your doctor or pharmacist.
As with any medicine, it is important to ensure that you are not allergic to any of the ingredients, if you have any known allergies to medicines, foods or other substances, then be sure to check Bactroban creams ingredient list before use to avoid any adverse allergic reactions.
Bactroban cream should also not be used by any person with kidney problems, or to treat open wounds and burns, without first consulting a doctor or pharmacist.
How to Use Bactroban Cream Safely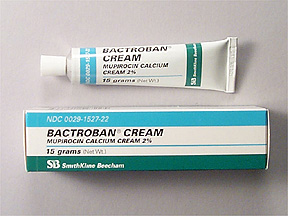 ŸFirst wash and dry the area of infection, then apply a small amount of cream.
ŸNext, gently rub the medicine until even distribution is achieved over the affected area. Once the cream is applied, the affected area can be properly covered with a bandage or gauze.
The dosage for Bactroban cream will be included with the medicine to use.
ŸIt is highly suggested that you continue to use Bactroban cream for the full course of the treatment to fully ensure that the infection is completely cleared, even if you begin to feel better and it looks clear, halting the use of the medication may allow bacteria to continue growing which could result in the infection relapsing.
ŸThis medicine is for use on the skin only. You should never let the medicine make contact with your eyes. If any contact does occur, ensure to rinse quickly and thoroughly with plenty of clean water.
ŸAvoid the use of Bactroban cream on areas of dry skin, your ears and your nose, unless directed by a doctor. Always wash your hands after using Bactroban cream, and ensure you never go over the prescribed dosage.
Bactroban Cream Side Effects
As we are all different in terms of how we react to medicines and other substances, certain side effects can develop in some users after using Bactroban cream. These include itching, burning, tingling or stinging at the area of application, rash, dry skin, and contact dermatitis.
If you use Bactroban cream for repeated or prolonged periods, you are likely to experience a new infection. If this does happen, contact your doctor immediately.