Broad spectrum antibiotics are specially designed antibiotics to protect against a wide variety of bacteria. They come in handy if a patient needs to be quickly cured of an infection or if the doctor is unable to diagnose the exact kind of bacteria causing the disease. Read on to know pros and cons as well as common kinds of these antibiotics.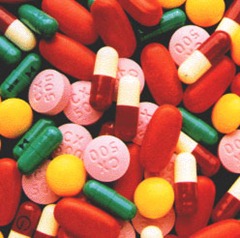 What Are Broad Spectrum Antibiotics?
In general, any chemical made by one microorganism that is used to destroy or hinder the spread of other microorganisms is known as an antibiotic. Broad spectrum antibiotics are chemical substances that protect against many different kinds of microorganisms (gram positive and gram negative bacteria) that may cause disease and infection.
Uses
They may be prescribed in the case where the bacteria causing infection in the patient has developed resistance to narrow spectrum drugs actually used to kill them.
Infection in patients is not always caused by one kind of microorganism; a whole group of a range of different bacteria may be causing the infection, which is commonly referred to as a super infection. If such a case arises, the doctor may prescribe several different antibiotics to target the microorganisms, or simply a broad spectrum antibiotic.
They are also administered when doctors are unsure about the exact nature of disease causing microorganism, and do not wish to delay treatment in case the disease turns out to be fatal.
Advantages
There are two main advantages of using these antibiotics.
They are developed to target and protect against a whole range of different bacteria, not just one specific kind of bacteria.
Even when doctors are still waiting to confirm their diagnosis about which organism exactly is causing the infection, broad spectrum antibiotics can be administered. This ensures that treatment is started immediately and is not delayed, and can potentially prevent the infection from turning deadly.
Disadvantages
Despite the advantages discussed above, they may not be preferred by all due to two key disadvantages.
If broad spectrum antibiotics are administered to a patient, there is a greater chance of him developing resistance to the drugs used.
Studies have shown that if broad spectrum antibiotics are used to treat a child who is less than one year of age, then he is effectively made more vulnerable to developing breathing problems, such as childhood asthma.
Examples of Broad Spectrum Antibiotics
Used for

Side Effects

Cautions

Tetracycline

Sexually transmitted diseases (STD)

Urinary tract infection

Skin infections

Respiratory infections

Strep infections

Acne

Malaria

Leprosy

Arthritis

Lyme disease

Dizziness

Diarrhea

Cramps in the stomach

Sensitivity to light

Changes in eyesight and skin tone

Headache

Nausea

Vomiting

Try to use sunscreen and avoid sunlight as much as possible.

React with other drugs, such as penicillin, tretinoin, acitretin, strontium and isotretinoin, as well as birth control pills.

Ciprofloxacin

Bacterial infections

Urinary tract infection

Syphilis

Anthrax

Diarrhea

Coughing

Nausea

Vomiting

Runny nose

Pain

Headaches

Photosensitivity

Do not take it simultaneously with tizanidine.

Side effects will occur if drugs containing theophylline and caffeine are taken while taking ciprofloxacin.

Levofloxacin

Bacterial infections

Anthrax

Nausea

Vomiting

Dizziness

Headache

Abdominal pain

Diarrhea

Nervousness

Lethargy

Trouble sleeping.

Allergic reactions

This drug should not be administered if the patient is already taking thioridazine, dronedarone or mesoridazine.

Penicillin

Bacterial infections

Chlamydia infections

Typhoid fever

Leptospirosis

Gas gangrene

Lyme disease

Helicobacter pylori

Peptic ulcers

Sore mouth or tongue

Headache

Vaginal itching and discharge

Diarrhea

White patches on the mouth and tongue

The drug is known to have reactions with birth control pills, methotrexate, venlafaxine, cyclosporine and vecuronium.

Cephalexin

Bacterial infections

Pneumonia

Bronchitis

Laryngitis

Tonsillitis

Urinary tract infections

Middle ear infections

Endocarditis

Diarrhea

Rashes

Swellings

Headache

Dizziness

Stomachache

Nausea

Vomiting

The antibiotic may react with metformin and cholestyramine.

Care should be taken when the antibiotic is administered to patients who are allergic to penicillin or those suffering from kidney disease.