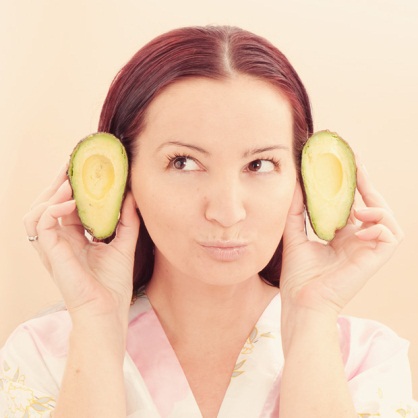 Avocado is a delicious fruit, which also has many other benefits that may surprise you. The oil of the avocado, with its nutty aroma, works wonders on hair. The early Egyptians were the first to realize these benefits and it is now more widely known. Some benefits that the avocado has for hair are to add shine and luster to hair as well as preventing hair loss and promoting hair growth. You can use avocado in different ways to treat different hair conditions.
Avocado for Hair
1. Hot avocado oil treatment
Benefits
Avocado oil contains many proteins and vitamins, including A,D, E and B6 as well as magnesium, folic acid, amino acids, copper and iron, all of which can help with both hair growth and nourishment.
Ingredients
1 tablespoon of avocado oil
1 tablespoon of olive oil
1 clean and soft towel
Instructions
In a small pot mix the avocado oil and olive oil together and heat on low, until warmed slightly.
The mixture of oils needs to be massaged in a circular motion into your hair and scalp for a period of about fifteen minutes.
If you have an oily textured scalp, refrain from using the oil mixture on your scalp, only use it on your hair.
Soak the towel in warm water and ring it out. Wrap the warm towel around your hair and scalp tightly, and allow it to stay there for approximately ten minutes, before shampooing and conditioning your hair.
How to make hair conditioner with avocado and olive oil:
2. For split ends
Benefits
The oil in the avocado can help to dry up brittle hair, which helps to prevent split ends.
Ingredients
2 avocados
1 shower cap or large plastic baggie
Instructions
Start out by lightly dampening your hair, this can be done most effectively through the use of a plastic spray bottle filled with water.
Next take the two avocados, peel and pit them and place is a bowl. Take a fork and smash up the avocado until it is mashed up well.
Take the mashed up avocado and work it into your hair, beginning at the roots and working it down to the ends of your hair, all the while paying extra attention to the split ends. Working the avocado into the scalp real well can help to prevent split ends in the future.
The next step is to cover your head with the shower cap or large baggie, and if you have hair that is longer, pile it on top of your head, first.
Let the avocado sit and work its magic for about fifteen to twenty minutes, before removing the avocado from your hair and shampooing and conditioning it.
All that's left is to brush out your hair and enjoy how beautiful and silky your hair is.
3. For hair revitalization
Benefits
The avocado has the ability to revitalize your hair and leave it soft and shiny.
Ingredients
Your choice of:
A handful of rose petals (scalp soothing infusion)
Jasmine or thyme (scalp softening infusion)
Rosemary or thyme (scalp toning infusion)
31/2 tablespoons of olive oil
3-4 avocados (ripe, peeled and pitted)
2 lemons (juiced w/o pits), which adds extra shine
3 ½ tablespoons of honey, which moisturizes hair and scalp
1 cup millet flower, which is very nutritious and helps to soften and cleanse the hair, and absorbs sebum on the scalp (can substitute barley or wheat flour or finely ground oatmeal)
Instructions
In a medium sized bowl, pour in the oil and add your choice of scalp treatment, and soak overnight.
The next day, take medium sized mixing bowl, mash up the 3-4 avocados. Try to make as smooth as possible, but if there are still lumps present, you can use a sieve.
Pour the oil mixture through a sieve to collect petals or sprigs from getting into the infused oil.
Blend the oil into the avocados well. Add the lemon juice and honey, and once again mix well. The last ingredient is your choice of flour or oatmeal, which should be slowly mixed in to form a paste consistency.
Scoop up some of the paste and apply to your hair, one section at a time from scalp to ends of hair.
Cover your head first with saran wrap and then with a towel and let the mixture absorb for about ten to fifteen minutes.
Once that is done rinse your hair in the shower, until all the mixture washes out, shampoo and condition the ends of your hair only and rinse again.
4. Hydration hair mask
Benefits
A hydration hair mask, containing the magical avocado, can help turn brittle and dry hair to shiny and soft.
Ingredients
1 tablespoon of yogurt
1 tablespoon of jojoba oil or substitute with olive, castor or coconut oil
1 avocado (ripe and peeled)
1 egg
Instructions
The first step is to wash your hair and just towel dry slightly.
In a large mixing bowl add all of the ingredients and make sure to mix well enough to combine all the ingredients together.
Apply the mixture to your hair and scalp and allow to set in or about ten minutes before rinsing off with lukewarm water.
For more dry and damaged hair, there is a mayonnaise hair pack you can also use. Mixing a half of a cup of mayonnaise, three tablespoons of avocado oil and an essential oil of your choice makes this pack. You then add the mixture to your hair and allow it to set in for twenty minutes before washing out with lukewarm water.
Either way you go both result in beautiful hair that you will love.
5. Deep conditioning
Benefits
Avocado oil is used as a hair moisturizer, as it makes your hair both shiny and gorgeous.
Ingredients
1 avocado (ripe)
1 banana (ripe)
1 tablespoon of wheat germ oil or olive oil
Shower cap or saran wrap
A few drops of any essential oils you like, such as rose, lavender, jasmine, sweet orange etc., for smell
Instructions
In a medium sized mixing bowl or even a blender, place the banana and avocado and mash or blend them together real well.
Add the oils and continue to mix or blend the mixture really good.
Apply the mixture to your hair and cover with a shower cap or saran wrap. Allow the mixture to do its wonders, by leaving it on for approximately fifteen minutes.
Shampoo and condition your hair as usual, comb it out with a wide-tooth comb and towel dry.