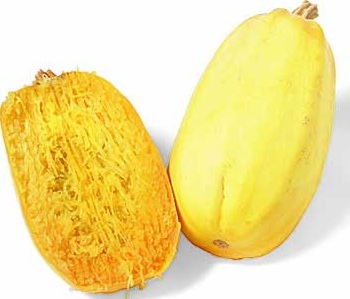 Spaghetti squash is a yellow mildly flavored winter squash, which has an oblong shape. After cooking and running a folk through it, its flesh separates into several spaghetti-like strands. It is the ideal substitute for pasta thanks to its low carbohydrate and calorie count. You can regularly consume spaghetti squash if you want to lose your weight or reduce carbohydrate intake.
Nutritional Facts of Spaghetti Squash
| | | |
| --- | --- | --- |
| Nutrients | Amount per Serving (155g) | % of RDI |
| Calories | 42 | |
| Dietary fiber | 2g | 9% |
| Carbohydrates | 10g | 3% |
| Sodium | 28mg | 1% |
| Vitamin A | | 3% |
| Vitamin C | | 9% |
| Iron | | 3% |
| Calcium | | 3% |
| Cholesterol | 0 | |
| Protein | 1g | |
| Fat | 0 | |
| Sugars | 4g | |
Health Benefits of Spaghetti Squash
Other than the above nutrients of spaghetti squash, it also contains omega-3 essential fatty acids and omega-6 fatty acids. While omega-3 fatty acids help prevent heart diseases, inflammation occasioned by arthritis and different types of cancers, omega-6 fatty acids are ideal for promoting proper brain function. Omega – 6 has a variety of minerals and vitamins, which are essential for proper functioning of your body.
Some of the recent conducted health studies have proven that spaghetti squash helps in curing prostate cancer and benign prostate enlargement.
Spaghetti squash is highly rich in beta carotene, which is essential in preventing atherosclerosis. It also has numerous health benefits especially for people with insulin deficiency.
The fact that spaghetti squash has a lot of potassium makes it the ideal diet for people with blood pressure. It can amazingly lower high blood pressure if consumed over time. The folate contained in the spaghetti squash helps in strengthening the walls of blood vessels besides enhancing blood circulation.
Pregnant women are encouraged to consume spaghetti squash more frequently since the folate contained in it helps in preventing birth defects which can occur when a woman is delivering the baby.
Spaghetti squash is a great source of both vitamin C and vitamin A, which are also antioxidants. They can, therefore, prevent cell damage. Because spaghetti squash has plenty of vitamin B, it promotes proper cellular functioning.
Watch a video on spaghetti squash recipe:
You can also watch a video on spaghetti squash recipe for weight loss here: