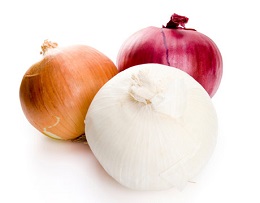 Many people are not aware that what makes some dishes very tasty is the flavor of onions in the recipe. Furthermore, food lovers may not know that onions add a lot of nutritional benefits to the dishes they eat. Read on to know some information on valuable onion benefits and on how people can enjoy eating onions in various ways.
Nutritional Facts of Onion
Nutrients

from 1 large onion (150 g)

Amount

% RDA

(Recommended Daily Value)

Vitamin C

11.1 milligrams

19%

Vitamin B6

0.2 milligrams

9%

Folate

28.5 micrograms

7%

Fiber

2.6 grams

10%

Manganese

0.2 milligrams

10%

Potassium

219 milligrams

6%
Onion Benefits
1. Improves Oral Health
People often think that onions cause bad breath. However, raw onions fight bacteria that can cause tooth decay and improve the strength of your teeth.
2. Prevents Colon Cancer
Onions contain flavonoids called quercetin, which boosts immune system function and prevents tumor development.
3. Fights Inflammation
Onions containthiosulfinates and sulphides, which help prevent diseases caused by salmonella, E. coli, and bacillus subtilis.
4. Detoxifies the Body
Onions contain vitamin C, cysteine, and methionine, which help remove toxic heavy metals like cadmium, lead, and mercury from the body.
5. Improves Cardiovascular Conditions
Onions promote good blood circulation and lowers high blood pressure that could lead to heart disease and heart attack. Onions also contain sulfur compounds, which improve red blood cell function and lower triglyceride and cholesterol levels.
6. Supports Bone Density
Research shows that GPCS, a compound in onions, could reduce bone loss in rats, which helps prevent osteoporosis.
7. Lowers Blood Sugar
Onions contain allyl propyl disulphide (APDS), a compound that helps reduce blood sugar levels and regulate serum insulin levels. They are also high in chromium, which helps regulate glucose response.
8. Relieves Sinus
Eating onions can help loosen mucous, which clears nasal passages and makes breathing easier for people who have a clogged nose or sinusitis problems.
9. Treats Earache
Some people use onions as a home remedy for earache by just boiling an onion until soft, wrapping it in cloth, and placing it over the ear.
10. Relieves Bee Bite Pain
Onions may be chopped and their juice may be applied over bee bites or bee stings to relieve pain.
Onion Recipes
1. Onion Salad
Ingredients
5 plum tomatoes, cut lengthwise, seeded, then thinly sliced
¼ red onion, peeled, cut lengthwise, then thinly sliced
1 cucumber, cut lengthwise, then thinly sliced
2 tbsp extra-virgin olive oil
Red wine vinegar
Coarse salt
Black pepper
Directions
Combine tomatoes, cucumber, and onions and dress with olive oil and two splashes of red wine vinegar.
Season with salt and pepper.
2. Onion Rings
Ingredients
1 large onion, cut into round slices
1 ¼ c all-purpose flour
1 tsp baking powder
1 tsp salt
1 egg
1 c milk
¾ c dry bread crumbs
Salt
Cooking oil
Directions
Heat oil in deep fryer. Mix flour, baking powder, and salt in a small bowl. Dip onion ring slices into the mixture until well coated.
With a fork, whisk an egg and the milk into the remaining flour mixture to make a batter. Coat floured rings with batter, and then drain them on a wire rack until they stop dripping.
Place bread crumbs on a shallow dish and coat each onion ring with the crumbs, scooping the crumbs over the ring. Tap the ring while removing from the crumbs.
Coating should cling well to the onion. Repeat with the remaining rings.
Deep fry onion rings a few pieces at a time until they are golden brown. Drain on paper towels. Season with salt and serve.
Watch this video for a demonstration:
3. French Onion Soup
Ingredients
½ c butter, unsalted
4 onions, sliced
2 garlic cloves, chopped
2 pieces bay leaves
2 fresh thyme sprigs
Salt
Black pepper, freshly ground
1 c red wine
3 tbsp all-purpose flour
2 qt beef broth
1 baguette, sliced
½ lb grated Gruyere
Directions
Melt butter in large pot using medium heat and add onions, chopped garlic, bay leaves, fresh thyme, salt, and pepper. Cook until onions are soft and caramelized for about 25 minutes.
Add wine and bring to a boil, reducing heat. Simmer until wine evaporates and onions are dry. Discard bay leaves and thyme. Dust onions with flour and stir. Turn down heat to medium low so flour does not burn. Cook for 10 minutes.
Add the beef broth and let simmer for 10 minutes. Season to taste.
Preheat a broiler. Arrange baguette slices on a baking sheet and sprinkle with Gruyere. Broil until it is bubbly and golden brown (about 3 -5 minutes).
Place soup in bowls and float Gruyere croutons on top.
Watch this video demonstration:
4. Caramelized Onions
Ingredients
Medium or large onions, yellow, white, or red, sliced
Olive oil
Salt
Butter (optional)
Sugar (optional)
Directions
Using a wide sauté pan, heat olive oil and butter (1 tsp per onion) until oil is shimmering. Add onion slices, stirring to coat onions with oil. Reduce heat to medium or medium low to prevent burning or drying out of onions. Sprinkle some salt and sugar over the onions if desired to aid in caramelization. Water may also be added to prevent drying.
Cook for 30 minutes to an hour, stirring every few minutes. Onions will start sticking to the pan, but allow them to stick a little and to brown, stirring them before they burn. You can add a little more oil, if the onions begin to burn. Use a metal spatula to scrape the brown bits at the bottom of the pan until the onions are a rich, browned color.
At the end of cooking, add a little balsamic vinegar or wine to deglaze the pan and add more flavor to the onions. Use these to top steaks, burgers, or sandwiches, and keep the rest in an airtight container in the refrigerator for future use.
Here is a video demo: