Tomatoes are a very popular vegetable. They are tasty, versatile, affordable, and provide a variety of health benefits. Tomatoes are featured in a variety of recipes and can be used in a number of different ways. One of the most popular options for consuming tomatoes is in tomato juice. The juice is rich, tasty, and filled with health benefits.
It is always best to squeeze your own tomato juice from fresh tomatoes, if you choose pre-made juice, be sure the sodium level is within a healthy range for your daily intake.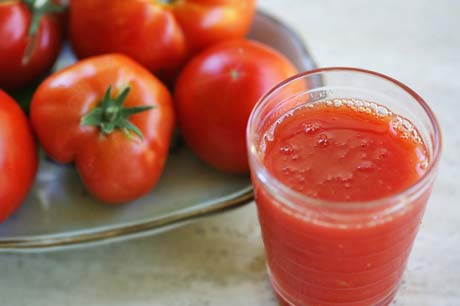 Nutritional Facts of Tomato Juice
| Nutrients | Value per 100 g (3.5 oz) |
| --- | --- |
| Carbohydrates | 3.9 g |
| Sugars | 2.6 g |
| Dietary fiber | 1.2 g |
| Fat | 0.2 g |
| Protein | 0.9 g |
| Water | 94.5 g |
| Vitamin A | equiv. 42 μg (5%) |
| Vitamin C | 14 mg (17%) |
| Vitamin E | 0.54 mg (4%) |
| Potassium | 237 mg (5%) |
| Lutein and Zeaxanthin | 123 μg |
Raw tomato juice also offers essential vitamins, such as A and K, and all of the B vitamins. It also contains iron, magnesium, and phosphorous.
Tomato Juice Benefits
Colon Health
Studies have shown the lycopene in tomato juice reduces a person's risk for prostate cancer. Low levels of lycopene increase a person's likelihood of developing colorectal adenomas, considered a precursor for colorectal cancer. The fiber and water content in tomatoes also help keep your colon health.
Digestion Promotion
Tomato juice improves your digestive system. It has been known to prevent constipation, especially when blended with spinach juice. The mixture activates the liver and contains a great deal of fiber, both effective for preventing constipation. Tomato juice is also a natural antiseptic and can prevent diarrhea and common infections. Some also find it effective for prevent kidney and gall stones.
Lower Cholesterol
It should come as no surprise that with all the health benefits of tomato juice, it also helps to lower cholesterol. Raw tomato juice is one of the best treatments there is for reducing high cholesterol levels. It contains a great deal of fiber, which breaks down LDL cholesterol in the body. Tomatoes also contain niacin, which has also shown positive effects on high cholesterol levels.
Prostate Health
The lycopene and other protective phytonutrients in tomatoes promote prostate health. The lycopene works in conjunction with carotenoids to prevent prostate cancer. Tomatoes are considered by many to be the single best addition to your diet to protect prostate health.
Pancreatic Health
Studies have shown men consuming high amounts of lycopene and more than a 30% reduction in their risk for pancreatic cancer. There is also evidence that carotenoids and beta carotene, both found in tomatoes, further reduce a person's risk by more than 40%. Pancreatic cancer is one of the most deadly forms of the disease, so if you are looking to reduce your risk, tomatoes are a great idea.
Antioxidant Protection
Tomatoes contain antioxidants, which have proven effective in the battle against cancer. Antioxidants keep inflammation under control, so eating tomatoes can also help with diseases affected by inflammation, such as diabetes, asthma, and heart disease. Boosting your antioxidant intake is one of the best things you can do for your health.
Heart Disease Risk Reduce
Tomatoes also help prevent and manage heart disease because of their niacin, potassium, folate, and vitamin B6 content. Tomatoes improve homocysteine levels, a chemical in the body that directly damages heart health. Lycopene might also improve cardiovascular health. Studies have shown that diets containing tomatoes can reduce cardiovascular risk by nearly 30%.
Blood Clotting Risk Reduce
Tomato juice reduces the tendency for blood to clot. Though clotting is important when it comes to injury response, it is a negative factor when it comes to internal health. Studies have shown that people with type 2 diabetes who consume tomato juice showed a reducing in blood cell clumping.
Anti-Inflammation
Research shows a daily glass of tomato juice lowers a person's primary marker for inflammation by nearly a third. Free radicals cause excess production of oxidative stress in the system, which triggers inflammation. This inflammation is linked to a variety of chronic diseases, including cancer, osteoporosis, and cardiovascular disease. Drinking tomato juice reduces the damage caused by free radicals, reducing inflammation.
Bone Health
Most people associate milk and other dairy foods with bone health, but tomatoes also promote good bone health. Tomatoes contain vitamin K, one of the most important vitamins associated with bone health. Vitamin K activates osteocalcin, which is responsible for anchoring calcium inside of bones.
Easing Stress
Eating tomatoes can reduce your stress levels. Daily consumption of tomatoes increased vitamin C in the blood and decreased biomarkers for oxidative stress. The best effects occurred when patients ate gazpacho, a vegetable soup that also includes garlic and cucumbers. After just one week of eating gazpacho every day, study participants showed a 25% increase in vitamin C levels.
Better Skin
The positive effects of tomato juice consumption also affect the exterior of your body. Drinking tomato juice on a regular basis improves the health of your skin. Studies in which participants drank two servings of tomato juice per day showed a reduction in acne. Tomato juice also aids in the prevention of skin cell damage. In addition to drinking tomato juice, tomatoes can also be mashed up and used as a facial mask.
Healthy Hair
Drinking tomato juice also improves hair health. The vitamin K content in tomatoes not only boosts eye sight, it also promotes healthy hair growth. Many people also notice their hair is stronger and shinier when they begin drinking tomato juice.
Video: This video shares many of the benefits of tomato juice and tells you how to make delicious red tomato juice. The recipe featured in the video is also a suitable recipe for dieters trying to lose weight.