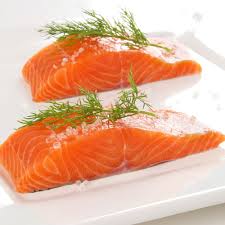 Salmon, which is one of the most nutritious types of fish, makes a good addition to a balanced diet. It contains high protein levels and has low saturated fat. Salmon is also very versatile in that it can be included in many different spice combinations and recipes. Salmon fillet is also an excellent source of omega-3 fatty acids, which come with various health benefits. The calorie count in salmon fillet depends on different factors, including salmon type and preparation method.
How Many Calories in Salmon Fillet
Calories

Proteins

Fat

(135 g/ 4.8 oz)

274

24.0 g

19.0 g

Smoked Salmon Fillet, Chinook (100g)

125

18.0 g

9.0 g

Atlantic Salmon Fillets, Skinless Boneless

(115g/ 4 oz)

200

22.0 g

12.0 g

Salmon, Atlantic, Wild

(155 g/ 5.5 oz)

280

39.0 g

12.5 g

Salmon, Atlantic, Farmed

(178 g/ 6.3 oz)

367

39.0 g

22.0 g
Salmon Fillet Recipes
1. Balsamic-Glazed Salmon Fillets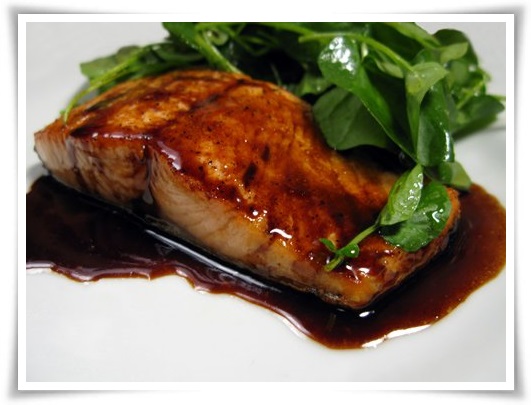 Servings: 6
Ingredients:
Six salmon fillets (5 ounces each)
4 minced cloves garlic
White wine (1 tspn)
Honey (1 tspn)
Balsamic Vinegar (1/3 cup)
Dijon Mustard (4 tspn)
Pepper and Salt to taste
Fresh chopped Oregano (1 tspn)
Instructions:
Pre-heat oven to 2000C (4000F)
Take a baking sheet and line it with aluminum foil. Use a non-stick cooking spray on the foil.
Take a small saucepan and coat it with the non-stick cooking spray. Using medium heat, cook the garlic and stir until it is soft (3 minutes later).
Mix it in honey, white wine, pepper, salt, mustard and balsamic gaze. Leave it uncovered and simmer until it has thickened (for about three minutes).
Pre-heat oven and bake salmon fillet for about 10-14 minutes. Brush fillets using the glaze and season with pepper and salt (if need be).
2. Ginger Grilled Salmon Fillet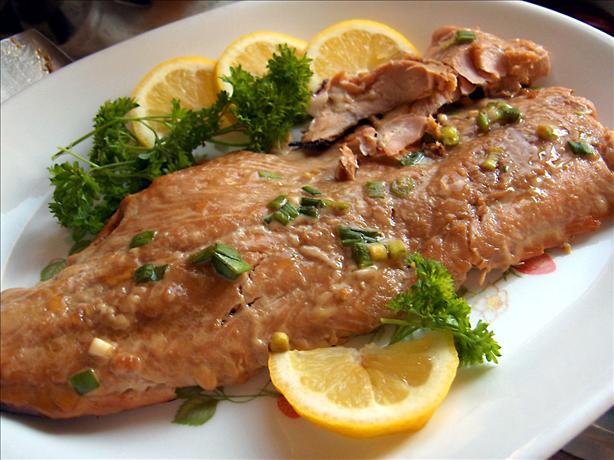 Servings: 8
Ingredients:
Soy sauce (1 cup)
Olive oil (1/4 cup)
Dark brown sugar (1 cup)
Fresh peeled, minced ginger roots (1 piece)
Smashed cloves garlic (2)
A whole salmon fillet (3 pound) with skin
1 cedar plank (untreated)
Instructions:
Whisk the above ingredients together except for the salmon and cedar plank and pour it to a sipper plastic bag.
Add salmon in the plastic bag and squeeze out any excess air then seal the bag. Let it marinate overnight or as long as 2 days.
Take the cedar plank and soak it in some water 30 minutes before grilling.
Pre-heat grill at medium heat and oil its grate lightly.
Remove salmon, and shake off excess and discard the marinade. Take salmon and place it on cedar plank with skin facing down.
Grill with cover closed until salmon is dense and juicy for 20 minutes. Remove salmon carefully as you leave skin on plank.
Again calories in salmon fillet depend on serving size, type of fish as well as preparing method.