Every year, 6 to 12 million kids in the United States become afflicted with head lice. Natural remedies can rid your child's head of lice just as well as other kinds; they simply haven't been studied as closely as the more commercial treatments. Here you will find information on home remedies, over-the-counter treatments and prescription treatments used when treating and getting rid of lice.
Remove By Hand
Wet and condition your child's hair beforehand, then run a fine-toothed comb through the strands. This needs to be done every 3 to 4 days for at least 2 weeks after the last live louse was seen. Wet hair temporarily immobilizes the lice and conditioner will make it easier for you to comb through all the hair. Wet combing is a great alternative to using pesticide treatments on older kids.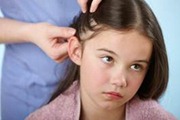 Head to the Kitchen
Various kitchen staples are commonly used as home remedies for relieving minor conditions because they are easily accessible and more natural than remedies found at the drug stores.
1. The thick consistency of olive oil plugs the breathing holes of the lice, suffocating them. Apply olive oil generously to your child's head and have them sleep with in a shower cap overnight as lice can survive many hours without breathing. You will need to comb out the nits, but the olive oil will help loosen them from the hair shafts and make removal easier.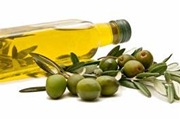 2. Make a paste by grinding 8 to 10 garlic cloves together. Add 2 or 3 teaspoons of lime juice or water, and 10-15 drops of tea tree oil. Apply the mixture generously onto your child's scalp. Leave this paste on for about 30 minutes then rinse out thoroughly.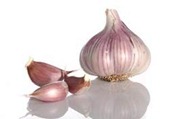 3. Many people recommend using real, full-fat mayonnaise for delousing. Apply it liberally all over your child's hair then fit a shower cap nice and tight over the head. Leave the cap on overnight to let the mayo work its magic. Shampoo the hair, then comb for nits in the morning. Repeat this treatment one week later to kill any nits that may have remained.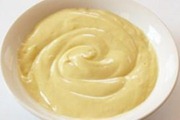 Try Essential Oils
Essential oils have many different qualities to them that can be used to kill lice and have a soothing effect on an itching scalp.
1. Tea tree oil has a wonderful effect on head lice. It is a natural insecticide. To use tea tree oil, get a natural shampoo and add 3-5 drops of oil for every ounce of shampoo you're using. Mix in one teaspoon of tea tree oil with three teaspoons of carrier oil (like coconut, jojoba, sesame or olive oil) in a bowl. Apply this to hair and leave for 30-45 minutes before shampooing normally. You can also add 10-20 drops of this oil straight into the washing machine when you are washing some infected items. When you comb through for nits add 15 drops to 2 oz of water, then spray it directly onto the hair.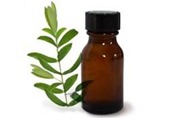 2. Take a teaspoon of natural, unscented body lotion and put two drops each of lavender, geranium and eucalyptus oil into it. Massage this into the scalp and leave it on for 30 minutes to an hour. Run a nit comb through the hair and rinse it well. You can add two drops of eucalyptus, lavender, rosemary and geranium oil and 3 teaspoons of vinegar into half a jug of water for a final rinsing solution. Use this rinse and then let hair dry naturally.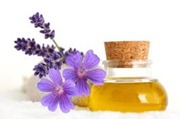 3. Sesame seed and neem oils are rich in natural insecticide properties, anti-bacterial and anti-fungal. To treat with these oils begin by rinsing hair with apple cider vinegar and allowing it to dry. Whisk ¼ cup sesame seed oil, ⅛ cup neem oil, 1 teaspoon tea tree oil, ½ teaspoon of eucalyptus and rosemary essential oils, and 10 drops of Bulgarian lavender essential oil together. Apply this oil to both the scalp and hair, then cover the head with a shower cap, and leave on overnight. Use a nit comb the following day to remove all lice and nits. Shampoo normally and repeat every day for five days.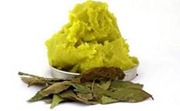 Apply Medical Lotions
Prescribed and over-the-counter medical lotions are often used for treating lice. Always follow the directions and instructions listed.
1. Recently approved ivermectin lotion 0.5% comes from bacteria found in soil and is highly effective at paralyzing and killing lice and their eggs. Children over 6 months in age can use this treatment and clinical trials showed roughly ¾ of patients as being lice free two weeks after a single application and no nit combing. Fewer than 1% experienced any side effects of eye or skin irritation. Apply this lotion to dry hair and scalp, then rinse after 10 minutes for best results.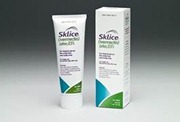 2. Products like Nix contain the active ingredient Permethrin lotion 1%; a synthetic version of pyrethrins. Permethrin attacks live lice, but there have been reports of lice becoming resistant to this treatment. Allergic reactions can happen. Liberally apply this lotion to hair that is damp and shampooed, but not conditioned. Leave for ten minutes, then rinse and comb. Repeat this if lice appear 7 or more days after initial treatment.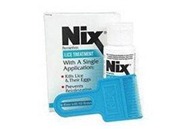 3. The prescription lotion benzyl alcohol lotion 5% works by stunning the breathing apparatus and causing suffocation. It will not kill nits and at least 2 applications will be needed. Clinical trials saw an average of 75% or more of lice-free participants 2 weeks after the second treatment. Only use on children 6 months or older and be aware that eye and skin irritation can occur. Saturate the scalp and dry hair, wait ten minutes, then rinse. Shampoo after you treat and use a nit comb.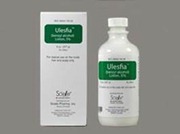 This video can help to teach you to get rid of lice: