Two popularly used medications often used to relieve pain and fever are called acetaminophen and ibuprofen. They are two different drugs with unlike chemical properties and side effects. While acetaminophen may be used by patients of any age, ibuprofen is used only for adults and children at least six months old. What is the difference between Acetaminophen and Ibuprofen? How to combine them to manage pain and how to alternate them to relieve fever?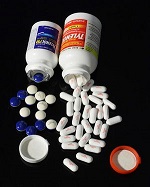 What's the Difference between Acetaminophen and Ibuprofen?
Ibuprofen
This drug works by reducing body production of prostaglandins, which are substances involved in inflammation and pain. This results in reduced body aches, fever, and pain as well as decreased redness and swelling due to inflammation. Its effects are more potent than those of acetaminophen and it lasts longer than it, too. It is therefore recommended that one takes the medication only every 6-8 hours or thrice a day.
One disadvantage of taking ibuprofen is that it irritates the stomach when taken without food or when taken too often.
Acetaminophen
Acetaminophen reduces fever, aches and body pains like ibuprofen although it does not reduce inflammation. It also has a milder effect on the digestive tract and it may be taken without food.
However, acetaminophen can be very toxic to your liver when taken in large doses. It may be taken every 4-6 hours or not more than 5 times a day.
If a child is taking acetaminophen and another medicine, parents must avoid overdose by ensuring that the other medicine does not contain acetaminophen as well.
Acetaminophen and Ibuprofen Dosage Charts
Weight

(pounds/ lbs)

Chewable Tablets

(80 mg/tablet)

Elixir

(160 mg/5 ml/teaspoon)

Jr. Strength Caplets

(160 g/caplet)

Regular Strength Tablets

(325mg/tab)

6-11

---------

1/4 tsp (1.25 ml)

---------

12-17

---------

½ tsp (2.5 ml)

---------

18-23

---------

¾ tsp (3.75 ml)

---------

24-35

2 tablets

1 tsp (5 ml)

---------

36-47

3 tablets

1½ tsp (7.5 ml)

---------

48-59

4 tablets

2 tsp (10 ml)

2 caplets

1 tab

60-71

5 tablets

2½ tsp (12.5 ml)

2½ caplets

1 tab

72-95

6 tablets

3 tsp (15 ml)

3 caplets

1½ tab

96+

---------

--------

4 caplets

2 tab
Ibuprofen (Advil, Motrin, or another brand)

Weight

(pounds/ lbs)

Dose

Liquid

(100g/ 5ml/ teaspoon)

Chewable Tablets

(100 mg/tab)

Tablets

(200 mg/tab)

11-21

50 mg

½ tsp (2.5 ml)

½ tab

22-32

100 mg

1 tsp (5 ml)

1 tab

33-43

150 mg

1½ tsp (7.5 ml)

1 ½ tabs

44-54

200 mg

2 tsp (10 ml)

2 tabs

1 tab

55-65

250 mg

2½ tsp (12.5 ml)

2 ½ tabs

66-87

300 mg

3 tsp (15 ml)

3 tabs

1½ tabs

88+

400 mg

4 tsp (20 ml)

4 tabs

2 tabs
Alternate Acetaminophen and Ibuprofen to Relieve Fever
To relieve high fever and pain, one can alternate taking ibuprofen and acetaminophen as follows:
Take two tablets ibuprofen (200 mg/ tablet). If pain and fever are not relieved after two to three hours, you can take two tablets of acetaminophen (regular strength, 325 mg/ tablet).
After two to three hours, take 2 more tablets ibuprofen if high fever persists.
Continue to take acetaminophen and ibuprofen alternately but avoid exceeding the maximum doses of each drug.
Maintain proper intervals (at least four hours) between doses of the same drug to avoid side effects.
Combine Acetaminophen and Ibuprofen to Manage Pain
New research shows that combining acetaminophen with ibuprofen may have better effects than taking either of these ingredients alone especially for acute pain after a minor surgical procedure. Although these may be taken individually, they must be given at different intervals of time, which may be more difficult for patients to follow. Studies show that taking a product that contains both drugs has a better effect in relieving pain than taking either one alone in equivalent doses. Adverse reactions such as dizziness and vomiting are also minimal.
For more of the research background and details, click http://www.ncbi.nlm.nih.gov/pmc/articles/PMC2791549/