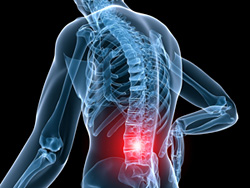 If you feel a numb sensation in lower back, you may have a nerve issue going on. Doctors most often find that something in your spine is misaligned. Think of your spinal cord as the main connector between your brain and the rest of your body. When any of the spinal cord nerves are affected, you can have numbness in your back or even extremities.
The spine is divided into regions: the cervical, the thoracic and the lumbar. If you have a nerve issue in the lumbar area, your lower back can have numbness and tingling. You may even feel this in your legs and/or feet. It is really important to have this checked by your doctor.
Causes of Numbness in Lower Back
The lower back is known as your lumbar area. When you have issues in this area, it can lead to lower back numbness, tingling, and pain. The causes of numbness in your lower back include:
1. Pinched Nerve in Lumbar Spine
If you have a pinched nerve anywhere in the lumbar area of your spine, you may notice numbness in your lower back. It can even travel down your legs and to your feet. Your lumbar nerves control your lower body and send signals back and forth from the lower body to the brain.
Symptoms
Numbness
Pins and needles
Tingling
Burning
Sharp shooting pain
Treatments
For a minor lower back injury, treatments usually include rest, ice, heat, and sometimes physical therapy. For more serious injuries, you may need injections of corticosteroids, anti-inflammatory medications, or even surgery.
2. Herniated Disc
Your discs in your spine are cushions between your vertebrae to alleviate pressure on your spinal column. These discs can push out to the side and herniate. This can put pressure on the surrounding nerves and tissue.
Symptoms
Numbness
Pain
Weakness in the legs
Loss of range of motion
Treatments
Anti-inflammatory medications
Physical therapy
Ice/heat
Corticosteroids (oral, injections)
Pain medications
Surgery (in severe cases)
3. Sciatic Nerve Issues
The sciatic nerve begins in your back and goes all the way down your leg. It takes messages from the spinal nerves and sends them to your legs. If you twist or bend wrong, this nerve can easily get pinched.
Symptoms
Numbness in lower back and legs
Sharp shooting pain
Pain with movement
Tingling in legs
Treatments
Warm compresses or heating pad
Gentle leg and back stretches
Anti-inflammatories
Corticosteroids
Physical therapy
4. Spinal Stenosis
When the space between the nerves in your spine and spinal cord narrow, you are considered to have spinal stenosis. This usually happens due to arthritis in the spine. Arthritis can cause the joint tissue to thicken, while damage leads to bone spurs on the vertebrae. This leads to swelling in the area that puts pressure on the nerves.
Symptoms
Numbness
Swelling
Back pain
5. Lumbar Radiculitis
This is irritation leading to inflammation of the nerve roots in the lumbar area. Lumbar radiculitis is often caused by a herniated disc or other disc issue. When something continues to rub on these nerves they can become inflamed. Sometimes, arthritis of the spine can lead to this condition.
Symptoms
Pain that radiates down the leg
Sharp pain
Burning sensation
Leg weakness
Numbness in lower back and/or legs
Treatments
Anti-inflammatories
Rest
Physical therapy
Medications that reduce nerve activity (Gabapentin)
Steroid injections
Accupunture is often helpful
6. Spinal Fracture
Spinal fractures can often occur without you even knowing. They can be painless, but you may feel numbness in the area where the fracture occurred. These types of fractures often occur with bone loss as in, osteoporosis. The numbness is caused by swelling around the area of injury. This could be a medical emergency and needs to be checked right away.
Symptoms
Numbness
Pressure in lower back area
Bruised spot near vertebrae
Trouble walking
Incontinence
Treatments
Unless a fracture is severe and is threatening the spinal cord, doctors are usually conservative with treatment. Often, bed rest and anti-inflammatories are prescribed. If the fracture is moderate, you may need to wear a back brace. If your spinal cord is compromised, you may need surgery to repair the vertebrae.
7. Spinal Tumor
Tumors can form inside your vertebrae or along the sides of your spine. They aren't always cancerous, but rarely can be malignant. Actual spinal cancer is very rare and is usually the spread of another cancer somewhere in the body. These tumors can compress spinal nerves and cause symptoms.
Symptoms
The first symptom is most often spinal numbness
Muscle twitches
Incontinence of bowel and bladder
Muscle spasms
Cold temp in legs and lower back
Leg weakness
Treatments
The doctor will most likely want to biopsy the tumor to see if it is cancerous or benign. They may decide to remove the tumor if it is highly suspicious for cancer. Other treatments include:
Steroid injections
Anti-inflammatory and pain medications
Radiation
Chemotherapy
Physical therapy
8. Late Pregnancy
In the third trimester of pregnancy or around the 7th month, the baby begins to put on weight and get into position for birth. This can put pressure on the lower back and associated nerves. Numbness in lower back due to pregnancy is common in most women.
Symptoms
Numbness and pressure
Urge to urinate often
Low back pain
Shooting pain down legs
Treatments
Rest
Ice
Hot compresses
Pelvic rocks (Getting down on all fours and moving your pelvis up and down)
Note: Always call your doctor if you're pregnant and experiencing lower back discomfort. Never take any medications during pregnancy without your doctor's okay.
When to See a Doctor
Back injury can be a medical emergency. Get help or call 9-1-1 if you experience any of the following:
Trouble walking
Severe leg weakness
Paralysis
Sudden numbness after an injury
You black out
No bladder/bowel control
Severe back pain during pregnancy