Statistics from Centre for Disease Control indicate that 50 million Americans suffer from arthritis. These statistics could be a result of diet, which can help in the management or worsening of arthritis. In an attempt to manage arthritis, you can drink cherry juice as well as cider vinegar. Apple cider vinegar for gout reduces pain and stiffness associated with arthritis, as discussed below.
Apple Cider Vinegar for Gout: How Does It Work?
What Is Gout?
Gout is a condition that involves inflammation and pain at a person's joints. These effects occur due to the presence of sodium crystals within the blood system of such an individual. These crystals are created when the amount of uric acid is more than 5.3mg/dl, the highest level of the acid's normal level. This acid gets into the body by the process of breaking down consumed proteins. The prevalence of gout is approximately 0.5%, with men aged between 30 and 60 being the most affected. However, it is important to note that having uric acid in our bodies is normal. Problem occurs when the rate of its excretion is lower than its production rate.
How Apple Cider Vinegar for GoutWorks
You should consider apple cider vinegar for arthritis management because it improves digestion, a process that eliminates chances of uric acid formation. Despite being acidic, once broken down within the body, apple cider vinegar provides an alkaline product. Alkalinity within the body has numerous health advantages, which include elimination of uric acid. Malic acid in apple cider juice is very important in the management of gout. Once broken down, it dissolves crystals of sodium urate within the body and hence reduces gout. Moreover, you should consider taking apple cider vinegar for gout because it reduces any excess uric acid, ensures that your body does not have excess water and helps in the excretion of waste from your body.
Apple Cider Vinegar for Gout: How to Do It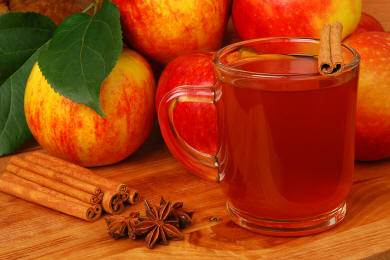 Conventional medicines for gout usually have associated side effects. Luckily, you do not have to risk suffering from the unwanted side effects. All you have to do is to follow the procedure below, which includes the use of cherry juice for arthritis.
The first option is to drink the apple cider vinegar. In making a drink of apple cider vinegar for gout, you need:
Water (a glass weighing 8 ounces)
2 teaspoons of unprocessed honey (optional)
2 teaspoons of organic apple cider vinegar
Mix all the ingredients in the glass and drink thrice a day.
The second option is to soak a piece of cloth in apple cider vinegar that is undiluted. Then wrap the piece of cloth on the affected area.
In order to motivate yourself to take the apple cider vinegar for gout, you could mix it with an appropriate juice: cherry, blueberry or strawberry. These juices are actually recommended for the management of RA. However, do not get tempted to add sugar to the drink with the exception of stevia. Stevia is good because of its alkanizing property unlike raw sugars that are acidic.
Note: Even though apple cider vinegar for arthritis helps, different patients will get varying results from the use of the drink.
When to Take Apple Cider Vinegar for Gout
It is advisable to take apple cider vinegar for gout after meals. In addition, it is a good idea for a patient to ensure that he takes alkaline meals since they work better with the vinegar. Patients are especially advised against acidic drinks such as sodas.
Another ideal time for taking the vinegar is when a patient feels a pain due to gout. Actually, this pain occurs mostly at night. Therefore, a patient could prevent the occurrence of such pain by taking apple cider vinegar for arthritis just before going to bed at night.
What Kind of Apple Cider Vinegar for Gout to Buy?
Prior to purchasing apple cider vinegar (ACV), it is important to know the qualities of the best ACV. The first important ACV quality to look out for is that it should be organic, non-pasteurised and non-fermented. This way it will still contain nutrients, minerals as well as enzymes that are important for the management of gout. The easiest way of identifying this right ACV is to purchase the one that is not clear but will have strand like bacteria. The second feature to look out for when buying ACV is that it should have very low acetic acid levels.
What About Cherry for Arthritis?
With the prevalence of gout around the world, some institutions have done some research on how cherries or their extracts can prevent gout. In any case, the condition leads to unwanted symptoms of pain, swelling and redness. The school of medicine at Boston carried such a research on a sample of 633 gout patients for twelve months. Each of the patients was monitored every two days. Data collected showed that patients who took cherry had a risk level that was lower than those who did not take cherries.
As a gout patient, you can take cherries in different ways: as part of your salad, baking muffins or pancakes, add a few cherries to your drinking water, as toppings to yoghurt or eat them plain. In order to evaluate the advantage of taking cherries, note down the symptoms associated with arthritis that you experience over time.